Estimated results
The original results will be patented and afterwards published in international high impact journals (2 papers) and presented in the international meetings. The authors will retain the copyright and funding from this project will be acknowledged. PhD students and master students will use experimental data under the experienced researcher control.

Results
The extraction under the microwaves action was studied at different furnace powers and it was concluded that too much power leads to a reduction in the yield of zein extraction, probably due to the solubilization of other components that interfere with the solubilization of the zeins (see the following table). The extraction under microwave action was performed using a BLUESKY microwave oven at power ranging from 200-700 W. The amount of extracted zein respects a second-order polynomial equation. It is noted that the largest amount of zein is extracted at 400 W. Initially, we assumed that under the action of heat the molecules break down sharply.
Zein concentration extracted in 15 sec at different furnace power
Power (W)

Absorbance

Zein concentration extracted (mg/mL)

200
300
400
500
600
700

0.364
0.399
0.507
0.483
0.384
0.183

1.797
1.980
2.544
2.419
1.902
0.852
Separation of the zeins by reverse phase liquid chromatography was also studied.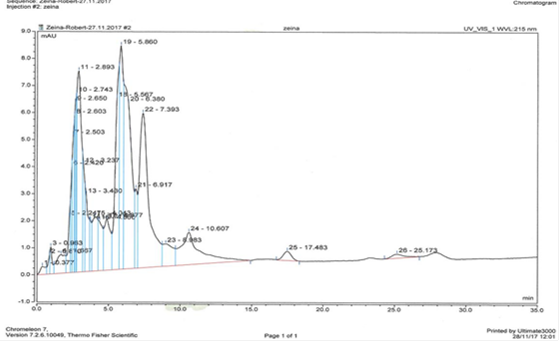 HPLC chromatogram of a commercial zein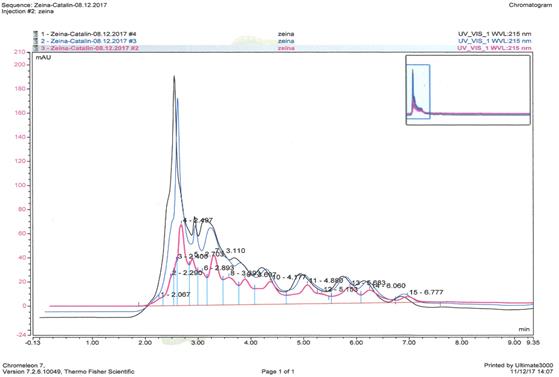 HPLC chromatograms made with different solvents and various extraction times
Modern technique to characterize zein-derived products was used. Therefore, MALDI-Tof mass spectrometry was used to analyze the corn protein (zein) composition.


MALDI-Tof mass spectrum of a sample (70% ethanol extraction, 30 min in ultrasonic bath
of corn flour with a grain size of <710 μm).
Two researchers participated in November 2017 in a research-stage at the University of Chemical Technology and Metallurgy in Sofia. There was studied the possibility of using zein derivatives to bind heavy metal ions. The goal was twofold: to understand the relation of heavy metal ions with proteins and to make materials capable of being used in the decontamination of harmful heavy metals of various environments, from the environment to the cellular. An ICP-OES instrument was used with the help of bulgarian colleagues and we will have access to it for future measurements under the 182PED / 2017 project.